A conversation with Rahima Gambo

episode 7
Jun 07 2019
Rahima Gambo on being a woman artist in Nigeria, telling the true stories of people, and creating lasting impressions and change through art.

About our guest
Rahima Gambo is a Nigerian photographer and artist whose work focuses on the everyday to social issues that looks critically at notions of documentary storytelling. Gambo uses her work to ponder on her environment, identity, history, memory, freedom, escape, healing, and the spaces in between these things.
Links
Resources mentioned
Jelili Atiku
Boko Haram Will Never Break Them: Photographing Nigeria's Schoolgirls, NPR
Tatsuniya" at The Treehouse, an artspace in Lagos, Nigeria, 2017. photo credit "Ayo Akinwade
"Rukkaya, Hadiza, Falmata, and Rashida". Education is Forbidden series. Maiduguri, Nigeria, 22" x 31", 2016
"Women are seen as to be a wife, to be a mother or a sister, or someone of service in some capacity,"
she says.
" I've kind of been on this journey for a while... At some point you just embrace completely what that means."

Image of part of a "A Walk" Installation completed at Treehouse, Lagos, Nigeria 2018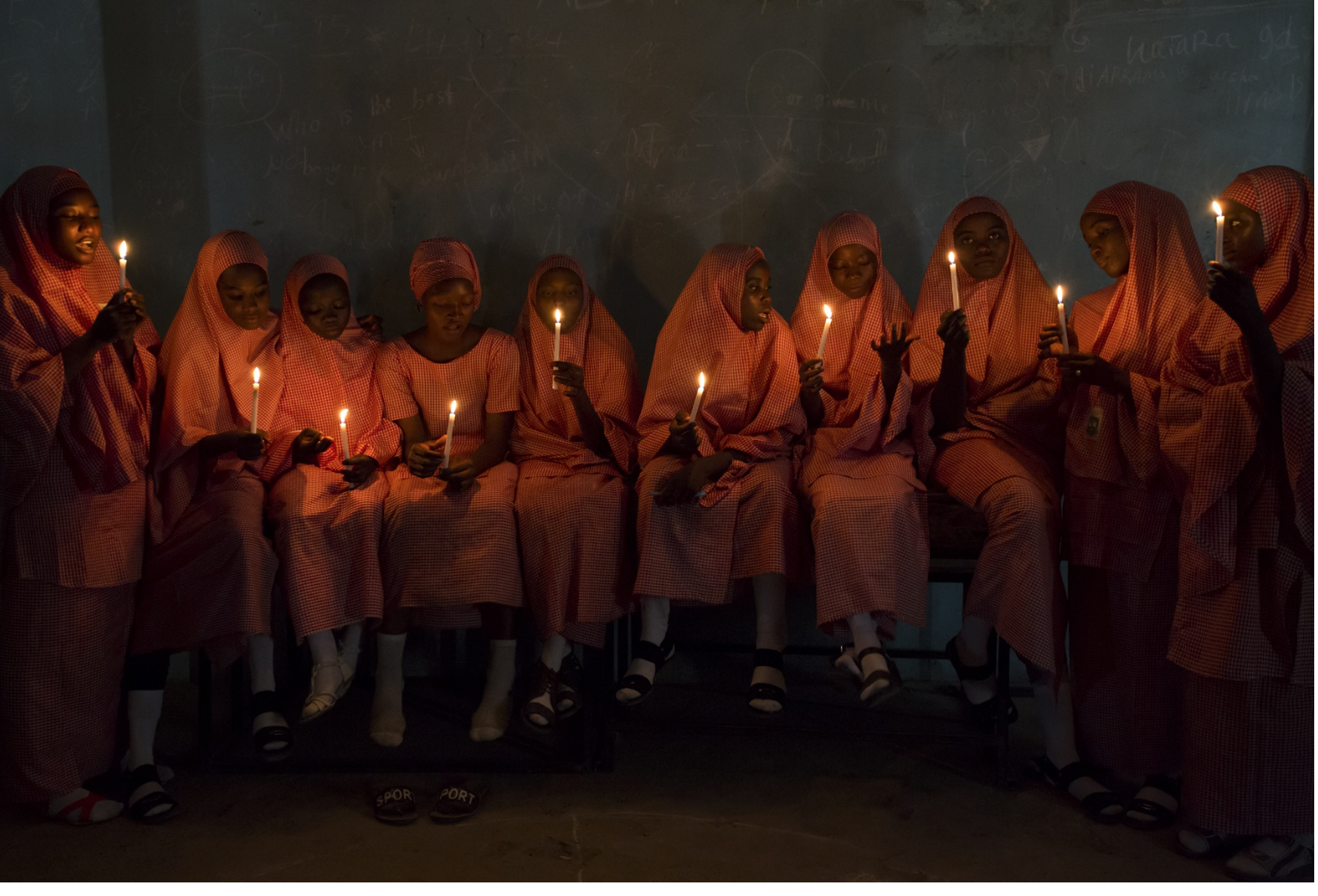 "School girls with candles (1)", Tatsuniya series, 27" x 40", 2017
"Students wait for class to begin at Shehu Sanda Kyarimi government school". Education is Forbidden series. Maiduguri, Nigeria, 13" x 18", 2016.
"Three boys from Shehu Sanda Kyarimi government school". Education is Forbidden series. Maiduguri, Nigeria, 13" x 18", 2016
Today the On Display podcast features Rahima Gambo, an Nigerian photographer and conceptual artist based in Abuja. Rahima went through several career changes before becoming an artist. She initially focused on gender and development studies while attending college in the UK, intending to work in policy making in Nigeria. But after returning home, she realized she wanted a way to communicate her own and other people's stories more strongly. To fulfill this passion, she pursued a photojournalism degree in New York.
In 2014, when 276 girls were kidnapped from a school in Chibok, Nigeria, Rahima found herself called home to document the story. But she again found herself dissatisfied and disillusioned with the process and how the story was sensationalized for a foreign audience.
Wanting to convey a deeper, more holistic story about the people she interviewed and their culture, she decided to take a different approach to storytelling.
Telling stories, not just documenting
Rahima's initial project, "Education is Forbidden," focused on the school girls who continued to attend school despite the kidnappings and conflict around them. Instead of remaining an impartial and objective observer, she found herself becoming an integral part of what was created, collaborating with the girls and mutually influencing each other.
"I think that was the whole point of that project," she says, "Just to remember something beyond this whole… victimhood/conflict, to revert to this safe space of 'Okay we know who we are… You from the outside can't tell us who we are.'"
Creating change through art
Rahima sees herself and other artists as agents of change, grappling with issues and traumas and giving them form and shape. Still, she says being a woman artist in Nigeria comes along with its own challenges – being seen as radical or even a bit dangerous – because people have no reference for how women fit into society as artists.
"Women are seen as to be a wife, to be a mother or a sister, or someone of service in some capacity," she says. "I'm kind of wary of using even the term… But I think what happens eventually… I've kind of been on this journey for a while... At some point you just embrace completely what that means."
Evolving as an artist
For artists who are still struggling to find their own voice or regular practice, she says, "What I would say to myself maybe a couple of years before, is that this is a life, it's not just our work… we have our whole life to create but there's no urgency to that, there's no deadline… you have your whole life to kind of figure it out and there's no right or wrong to it. It's just playing. It should be playful and a pleasurable experience of discovering."
︎

Adriana Balik
Vocalist, pianist, keyboardist, guitarist, songwriter, producer, musical director, educator, and mother
︎︎︎
previous story
Catherine Orer
Business + PR strategist for artists and founder of the Artist Entrepreneur
---