A Conversation with Lyz Parayso
episode 30
Dec 27 2021
︎
Lyz Parayzo, a brazilian born artist currently studying in the Beaux-Arts de Paris talks about her art, inspired by her personal experiences, and which focuses on the body, gender identity and fluidity.
About our guest
Lyz Parayzo is a Brazilian sculptor who also works with performance, jewelry and audiovisual. She studied performing arts at the Federal University of the State of Rio de Janeiro (UNIRIO) and Visual Arts at the Parque Lage School of Visual Arts. In 2019, she moved to Paris to begin a process of specialization in the Master's program at the École Nationale Supérieure des Beaux-Arts. Her work has been exhibited in the most important museums in Brazil, such as the São Paulo Assis Chateaubriand Art Museum, Tomie Ohtake Institute, Moreira Salles Institute and Rio Art Museum. Her works are part of the following public collections: MAC – Niterói, Casa de Culture of Latin America (UNB), MASP, MAR and Pinacoteca de São Paulo.
Links
Instagram
Galerie Espace L
"I make everything pink. At the same time it is pink, but dangerous. It is beautiful and dangerous. I mix desire and violence"

Brinco Bixinha Serrada (Toothed bixinha earring), 2019
Silver
4 x 4 x 9 cm
"I want to start talking about my body in the public space"
Bixinha cuir hexagonal pentagonal, 2021
Aluminium, pink leather
45 x 45 x 45 cm
"I'm so happy for creating discussions in society about my body, because I think it is an educational place too for people who have empathy if there are people like me."


PopCretinho bouclier carré circulaire, 2021
Aluminium, pink leather
100 x 45 x 13 cm
Godemiché Concrète #1, 2021
Silkscreen on Archves paper 180g
56 x 76 cm
Edition of 5 + 1 E.A.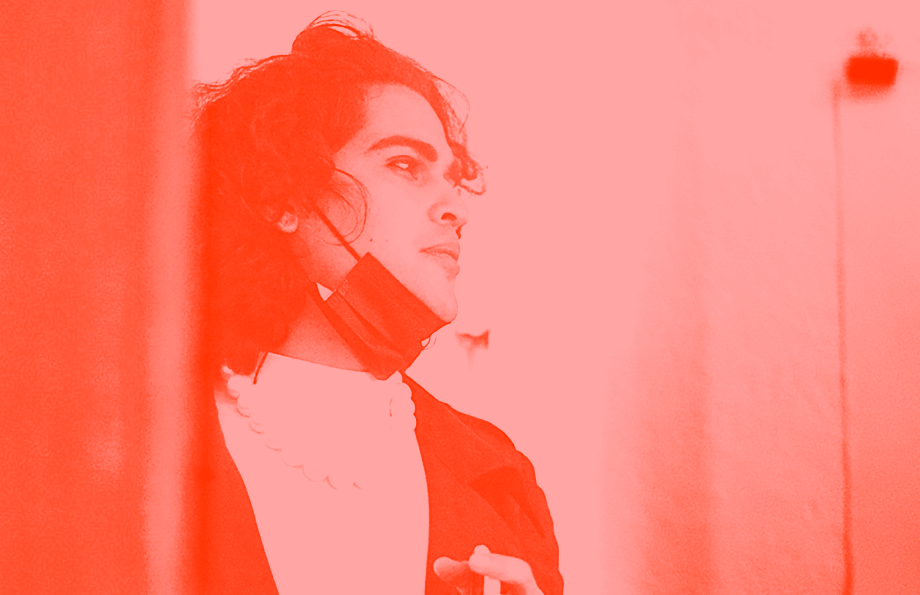 Listen ︎ on Apple Podcasts
Listen ︎︎︎ on your favorite platform
Lyz Parayzo, a Brazilian artist who works sculptures, live performances and audiovisual pieces, is with us on the show recorded from the gallery Espace L in Geneva, where there's an exhibition called "PornoChic". It was inspired by one of the tale of the book of the "Erotic Tales" by the Brazilian writer Hilda Hilst.

In this episode, we talk about the feminine performative, gender, its fluidity and its place in the art world that sometimes remains conservative. Through her work, like sharply cut sculptures representing 'jewelry as self defense', she aims to create the aforementioned debate, raising questions on desire and violence and its relation to the feminine performative.

She shares how her personal experiences have heavily influenced her art, along with external inspiration through writers, artists and thinkers such as Lygia Clark, Hilda Hilst, Hudinilson Junior, Kubra Khademi, Paul Preciado and Annie Sprinkle.

Her work is provocative, and affronting to some. Some of it has once been censored. But her art, as her body - which she draws from for her creations - takes a political stance, as the LGBT community still suffers from hate crimes, phobia and rejection.



Conversation Highlights:
Lyz' "Guerilla Plans": claiming art spaces for her art




Her series: "Bellic Prosthesis", sculptures of 'jewelries for self-defense'




Desire and violence, gender and identity
Lyz' "Guerilla Plans": claiming art spaces for her art



Lyz talks about the inspiration for her work which is both provocative and important. She says she never expected making sustenance through her art. Her work is both self-expression and self-exploration, as a way to open a public debate about gender and identity. "It is like my book," she says, "where I can start a public debate for people."

She started with "Guerilla Plans" where she invaded - did guerilla performances - invaded existing exhibition spaces.

Lyz shares that the art world is still conservative and shy from talking about gender and visuals that veer towards certain taboos. That's why she 'made [her] actions non-officials". "Imagine, in my first work [photograph]," she explains "there is my ass open with my painted nails and my art was censored because I put it in the bathroom in my first school." This made people talk, making it, indeed, "very strong work." And in an art school, this was questioned.

She of course, went beyond that by making "a fanzine talking about censorship, as many artists [...] in Brazilian art like Hudinilson Junior, who used a xerox copy machine as a support with images of his body, his ass, and dick." She tells us that it wasn't much appreciated by the school administration, but that her "little young career" started like that: "I learned to make art with interventions like these. Not sitting in a chair and listening to the teachers, but by putting my artwork in the world and seeing what will happen."


Her series: "Bellic Prosthesis", sculptures of 'jewelries for self-defense'

Lyz is now writing a memoir about Lygia Clark's work, a Brazilian artist who teached in La Sorbonne, who is an influence for her sculpture work. She tells us in particular about her sculptures 'as jewelleries for self defense' in a series named "Bellic Prosthesis" which represent "bracelets, rings for fighting, or for protection."

She says Lygia Clark's sculptures being in aluminum made her use that same material as it's cost-effective and easy to get. Attending an art residence in San Paolo, she's learned how to manipulate aluminum and create bigger sculptures. She made shields and mobiles.

We discuss "the duality between shielding yourself [and] protecting yourself" through this series." because jewelry can protect and defend from a certain implied violence perceived by others of the feminine performative, as it can attract and create a sense of desire. In the artists' words:

"I want to start talking about my body in the public space because when I walk on the street or I'm living my life [...], I feel or I am in a place of desire and violence at the same time. [...] Because the feminine performance catalyzes many energies, many sights, all the time." She makes these shields to open a debate: "How does one make shields in their life? And why?"


Desire and violence in the question of gender


Lyz shares her several inspirations from other artists, mentioning Kubra Khademi, using an armor on her body during a performance in Afghanistan, then making paintings of women "having sex with animals and different other things." She mentions 'The Counter-Sexual Manifesto' of Paul Preciado, underlining the question of gender. She mentions how she took inspiration from the story of Lory Lamby about the little girl that prostitutes herself, where "everything is pink with an atmosphere of desire and violence."

She says "[..] I make everything pink. At the same time it is pink, but dangerous. It is beautiful and dangerous. I mix desire and violence."

Lyz also shares her reflections on the body and gender after reading Paul Preciados' manifesto, understanding that her body is also "a political space" and that's how she intends her art as well. She mentions a video she made showing touching of a part of her body as a "simulation of masturbation" and how this relates to Annie Sprinkle, who made "The Post Porn Modernist Manifesto" (USA, 1989) and prompting pornography as a militant space.

It's worth noting that Lyz's inspiration is political and personal, but we don't shy away from talking about the elephant in the room: LGBT phobia. She shares with us that Rio is a very dangerous place for her. Having grown up in the suburbs of Rio de Janeiro, she vouches for the danger being LGBT in Brazil, where there are a lot of hate crimes, and murders committed against people from the LGBT community.

She also shares her disappointment about this issue at the Beaux-Arts de Paris art school, thinking it was more open. But phobia presented itself when she was being blocked from the metal studio, which is "officially for men", by a teacher that said "I blocked you because you are behaving like a little girl."

Despite Paris being a safer place than Brazil, in terms of her life, she experiences sexist and machist mentality which outrages her, especially within the art institution.

It is in that metal studio that she creates her sculptures, her art, her shields: "It is my way to express myself in one place. Because if I make weapons, if we make these things very dangerous, maybe people ask why? Why does someone need to make this shield?"

Lyz shares her personal views on her gender identity. She explains that the question of her identity has been an ongoing discovery process: "One time in my life I fought with everybody about my surname. Now I think it's not so important. I know when people don't understand my gender because I'm staying in the fluidity space too."

If all these topics speak to you and you need a power boost of inspiration, tune into this episode, or check the transcript you can find here ︎︎︎ [transcript]

︎

Dana Hoey

Artist and photographer


︎︎︎

previous story
Mimiko Türkkan
Artist and "visual narrator"
---